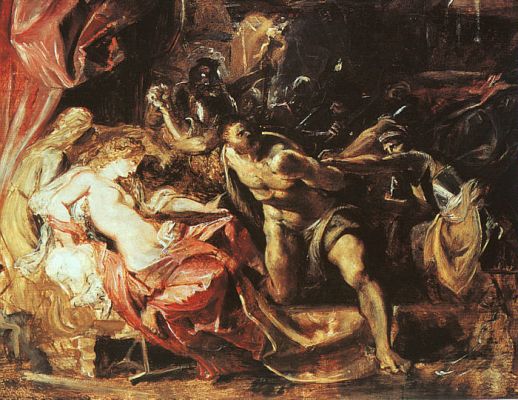 Samson and Delilah
Art by Rubens
Samson

Eyeless in Gaza, my body in pain,
I pray, Father Yahweh, to the truth of your Name.
They have severed my hair; my strength is all drained;
I hang in bowed shame at the end of these chains.

I am brought to my knees, my lips mumble, Please,
Father Yahweh, forgive me my great folly.
Return me my strength, as when my hair in its length
would brush lightly my shoulders...

Return me your strength, my God,
& your servant will bring this temple of false Dagon down
upon all these dark worshippers who oppress our people.

No flicker of light to my blinded eyes...
but tickling my ear are syllables as clear as a gnat's buzz...

My Lord...  I hear...

The Philistines hurl their taunts;
     their laughter grates my ears...
          my strength is returning...

I lift burnt-out sockets to the shut-out sky
none but me has heard my Judge's reply.

Delilah!  Delilah!  WHY?  I loved you true...
& tho in my blindness I rue ever loving you --
still -- I love you...

                 But now is the time.
                 My Lord -- I am Thine...
~~by Norman E. Masters
written circa 1982
Samson
Art by Unknown